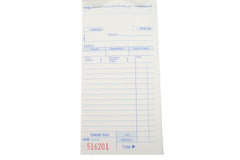 Triplicate Carbonless Delivery Form White #110SW
110SW - DELIVERY FORM NO CARBON 3 PT WHITE 14 LINE
3.5 x 6.75
Triplicate paper, carbonless(white/yellow/pink) Delivery Form(3.40" x 6.75") has 14 lines. Format provides space for Customer Name-Address-Phone-House/Apartment/Town House-Time Ordered/Delivery Time-Date. A wrap-around cover prevents write-through. Great for take-out purposes.
Made with quality paper
Numerical ordered stub for accounting purposes.
50 checks per book / 50 books per case
Made in the USA, National Checking Co.