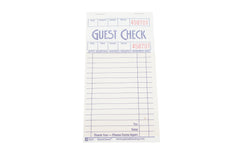 Single Guest Check Salmon #S3616
G3616 - GUESTCHECK PAPER 1PT Salmon16 LINE

3.50" x 6.75"

Single paper green GUESTCHECK™  has 16 lines with a "Menu Prompt" for better customer service. 

Made with quality paper 

Numerical ordered stub for accounting purposes.

100 checks per book / 50 books per case

Made in the

USA

, National Checking Co.